Opportunities abound all year to benefit the spiritual and relational growth of our youth. The cornerstone of our youth program is Exclamation which consists of  Jr.&Sr. High.
If you have any questions, please contact Katie Sepcich at youthdirector@hosannalutheran.com.
Exclamation currently meets every Monday from 5-6:15pm at Hosanna. They help prepare meals with our feeding ministry, Hosanna Hot Meals and work in the Hosanna FAITH Garden. The Teens can participate in virtual Bible Studies through Instagram as well. Find us @hosanna_teens.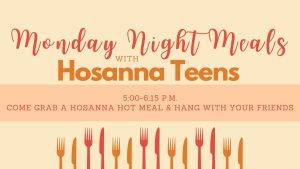 Check our social media for special youth events throughout the year!